Industry-Leading Support to Take Your Fitstop Business to New Heights
At Fitstop, we want you to succeed. We know that the choice to own your own franchise is a choice to know you're not on your own. We also know that as a network, we're stronger together where our success is your success. A huge component of franchise success is support, which at Fitstop, we're proud to reinvest in for our owners constantly.

We recently held our back-to-back Business Owner roadshows and product upskills across Australia and New Zealand, which has proven invaluable as we reinvigorated our network, connected and are ready for the next quarter ahead, and here's why:
Empowering Franchisees: A Glimpse into our Roadshow Success
September was a monumental month for Fitstop as we hosted the Trainer Upskill and Business Owner roadshows across strategic locations: Victoria, South Australia, Western Australia, Queensland, and New Zealand. These roadshows embody our belief in the power of face-to-face interactions and networking, fostering vital connections and a strong sense of community among our franchisee family.
Trainer Upskill Sessions: Boosting Excellence at Every Level
At the heart of the September Roadshow experience were our Trainer Upskill sessions, a core feature designed to empower our passionate trainers—the driving force behind Fitstop. These sessions provided a unique platform for trainers to refine their skills and bolster their confidence. Equipped with enhanced knowledge and expertise, our trainers are geared to deliver exceptional sessions, ensuring an unparalleled experience with every new 12-week programming block.
Showing up for our trainers and showing them that we're a business that cares about their progression and job passion continues to set us a part and is incredibly rewarding.
Business Owners Strategise and Elevate: Setting Goals for the Future
For our dedicated business owners, our Roadshows presented an invaluable opportunity to strategize, set ambitious goals, and fine-tune operational strategies for the upcoming quarter. This collaborative environment allowed our franchisees to learn from HQ, other business owners and overall, refine processes that can be actioned in their communities immediately.
The Power of In-Person Support: Nurturing Strong Foundations
In an era dominated by digital interactions, the value of face-to-face engagement cannot be overstated, particularly in community-driven business - and this is something we never have and never will compromise on. The September Roadshow was a testament to the vitality of in-person support, creating a deeper connection and fostering genuine relationships. Fitstop invests in these immersive two-day roadshows to fortify the foundations of our network, firmly believing that a location's health is what drives our overall brand health, ultimately driving superior outcomes for everyone involved.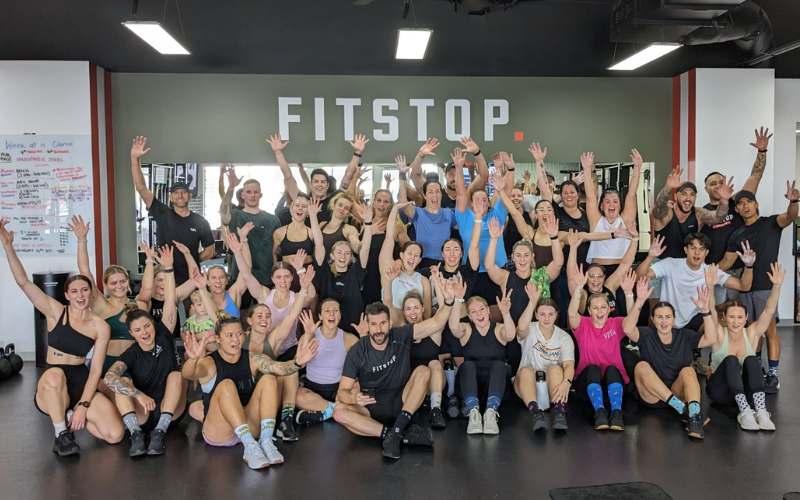 Testimonials from our Network
Fitstop Morningside, Queensland
"A Big thanks to the team for hosting the September roadshow sessions! We were able to have three staff members attend over the two days and all of us walked away feeling inspired, motivated and ready to implement some fresh ideas into our studio. Not only did we find huge value in the content, it was the networking, collaboration and connection between the locations that we absolutely loved. Looking forward to the next one!" - Fitstop Morningside
Riley Woodcock, WA Business Owner & Regional Manager - Melville, Bedford, Canning Vale, Innaloo, Applecross, Victoria Park & Ellenbrook
"Day 1 of the roadshow was extremely valuable for our trainers from a product perspective to be upskilled from Nikala & Pete around key messaging of what who Fitstop is, and exactly how our classes should be delivered to maximise every session. It set brand standards and showcased the level of which our brand should be represented in to uphold this. Day 2 as a franchisee and regional manager helped me gain great insight into what's to come and provided us with the tools to be able to plan and forecast to shift the needle in our businesses and grow in Q4." - Riley Woodcock
Fitstop Albany, New Zealand
"For the Trainer Upskills, it was great for the New Zealand network of trainers to work together, share their thoughts and get inspiration for areas of improvement and feel empowered on what they do well. The HQ team facilitated great as they covered off a lot of areas and tips that will allow our trainers to make immediate improvements. Already, our Trainers have implemented better strategies to group members and make them feel comfortable, and we're further supporting them in their sales pitch which will be a huge win!" - Courtney, Owner Fitstop Albany
Fitstop Jolimont, Western Australia 
"The recent HQ roadshow was amazing! The opportunity to collaborate face-to-face with HQ & other WA Fitstops was invaluable. It provided our team with the knowledge & tools to maximise our business performance & product delivery. I've been to previous upskilling sessions, and once again, the HQ team offered a fresh and exciting approach to the business processes. The programming team created an engaging workshop for our trainers - sharing ideas and practical takeaways on how to provide a fun and personalised service for members. I thoroughly enjoyed learning how other locations do things differently and sharing ideas to find best practice. We walked away from the roadshow feeling excited and empowered to implement new processes, such as the 5-Step Sales Process. We're already looking forward to the next Roadshow!" - Amy Oliver, Manager at Fitstop Jolimont 
Global CEO and Founder Pete Hull
"It was great to be back in my trainer shirt and leading a session to start the day. There's no better way to kick off a day than by talking about best practices with our global network of experts. It was inspiring to see our managers and business owners mapping out their Q2 plans to drive positive results for their communities and achieve their financial goals. What stood out most, though, was the shared commitment to Fitstop's "Give a F*** Factor." This is what truly sets us apart" - Founder and Global CEO, Pete Hull
Fitstop's 'Give a F* Factor': Your Success is Our Priority
At Fitstop, our core value, the "Give a F*** Factor," isn't just a catchphrase—it's a philosophy that drives our every action. We genuinely care about each Fitstop location and continuously push the boundaries of success. This ethos fuels our commitment to providing unparalleled support, ensuring every franchisee has the tools and backing to thrive in the competitive fitness industry.
Discover the Fitstop Advantage: Join a Community that Cares
Our commitment to continuous support and education sets Fitstop apart as a superior brand in the fitness franchising arena. The reinvestment in our network through these enriching two-day roadshows reflects our dedication to your growth and prosperity. Experience the Fitstop advantage and embrace a journey where your success is our mission.
If you'd like to find out more, register your details below to secure your free Fitstop Franchise Information Pack.