Lift Brands Summit 2023: Fitstop's Franchisee Award Winners
In May, our Fitstop network came together for the 2023 Lift Brands Summit - our biggest event of the year. This exclusive event brought together over 650 franchisees, managers, trainers, and HQ staff from the Lift Brands Asia Specific brand at the Star Grand on the Gold Coast for a week of collaboration, learning, and growth.
Not only is this the biggest event of the year bringing people together from Australia, New Zealand and Singapore, but its value is second to none as our network is inspired, collaborative and walk away with a clear strategy and direction for the new financial year. With inspiring speakers, game-changing sessions, and of course, our 2023 Fitstop Award winners - here's exactly why we value the Summit so much. 
Inspiring Speakers and Learning Opportunities

We heard from renowned speakers such as our-time Olympian Anna Meares, Richmond Football player Trent Cotchin, Gold Coast Titans CEO Steven Mithcell, All Blacks Head of Performance Nic Gill, and leading mind coach Emma Murray. All with experience in high-performance sporting environments, Fitstop felt their learnings were incredibly relevant and easy to apply in their business.
Game-Changing Sessions and Personal Growth Plans
Fitstop franchisees participated in sessions led by the top performers in the network. This is a key opportunity for owners to be surrounded by the entire network and ask burning questions from all of our high performers. This covered topics from team structure, increasing trial attendance rate to nurturing long-time Fitstoppers.
We also developed personal growth plans to really set goals in stone and identify how Fitstop, and their business, can support these goals. 
Uniting a Global Community
Connecting Fitstop franchisees worldwide and fostering collaboration and friendships has once again elevated the trust and passion within our network, which is essential as a community-driven business and continues to set us apart.
HEAR FROM OUR 2023 AWARD WINNERS
Wrapping up the incredible four days at the Summit, we got to recognise some of our outstanding Fitstop business owners who have had an exceptional 12 months. We're so proud and grateful to have such exceptional owners as part of our network and we love the determination and drive each and every location has to take out the Awards each year!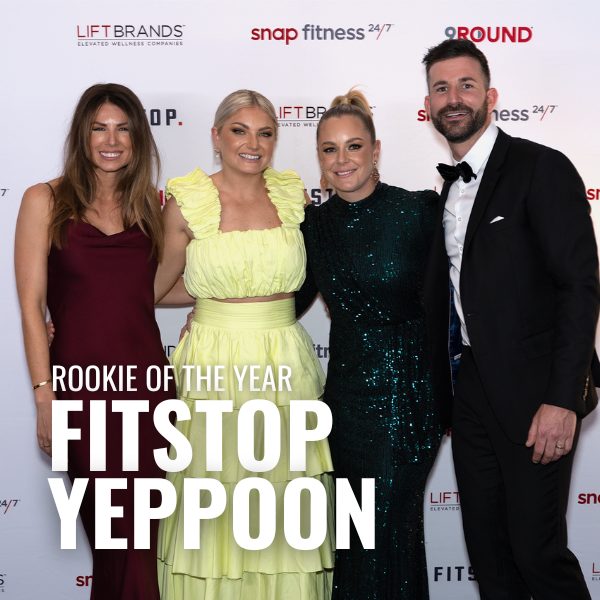 The Fitstop Rookie of the Year is awarded to a location that has absolutely hit the ground running prior to and upon opening the doors to their community.
Liz and Zoe, Owner and Manager of Fitstop Yeppoon attended the 2022 Lift Brands Summit prior to opening their community and as they saw the Rookie of the Year be announced, said they would take it out for 2023. This speaks to the passion, grit and determination they've bought to their location, creating an incredibly successful business. 
The Community of the Year is awarded to a location/s that has gone above and beyond not only for their members but also recognises the impact the Fitstop difference can make for the community at large. 
"One of the driving factors that lead Lefty & myself to open a Fitstop was to create a welcoming and inclusive community where people of all different fitness levels and backgrounds could come and train together. We wanted to have a positive impact on people's lives and help them reach their health & fitness goals. Being nominated for and winning Community of the Year is extremely humbling. We have so many amazing and strong communities within the Fitstop network and to be recognised for our amazing community is an honour! We love our community and what we do and cannot wait to continue to help and inspire people to move more to live more." - Cassie, Owner. 


The Stop At Nothing award is presented to a location that has had a breakthrough year. This location has set strong foundations for their community and have really shown up this year!
"Winning the Stop At Nothing award was an absolute honour however none of it would be possible without our superstar team and wonderful members. I may be biased, but I have to say we have been blessed with an amazing community that feels like home." - Aurora, Owner. 
The Performer of the Year award is presented to a location that lives and breathes Fitstop, trusts the process and truly backs the evolution of our brand and product - and a community that has the most Fitstoppers in history!
"We are so proud to accept this award. We work hard. Our team works hard. We go above and beyond for our community and our team love what they do. To have this hard work, and often, sacrifice, recognised is truly humbling. Our community were thrilled to hear of this award. They know Fitstop Nundah is an amazing gym, now it's official!" - Dav, Owner.


The Fitstopper of the Year is awarded to a team that embodies the essence of a true Fitstopper - relentless consistency, an athlete's mindset, community-focused and most importantly, they love what they do. This is for a team that shows up with purpose.
"Myself and the team at Fitstop North Hobart have worked really hard to show Tasmania that we are the home of functional fitness and that being a Fitstopper is more than just attending sessions. We've created a space that is supportive and encouraging and that members want to bring their friends to. Winning Fitstopper of the year was a surprise to say the least but we are super proud that everyone sees the huge effort we put into Fitstop North Hobart and ensuring our members have the best hour of their day right here. We could not have won this award without our "go-getter" community (many who have been there from day 1!), and we are incredibly thankful for their ongoing support." - Emily, Owner.
Feeling inspired?
We're so fortunate to see our business owners not only changing their members' lives for the better, but their own lives too. With passion, hard work and a love for Fitstop, amazing things can happen. If you'd like to find out more about our current Fitstop franchise opportunities, make sure you download our free Information Pack.